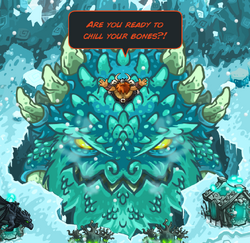 Jokull is the second boss in Kingdom Rush: Vengeance, fought in stage 11, Jokull's Nest. Despite being a boss fight, she is not treated as an enemy by the game.
After wave 15, the King of the North Arkuz will summon Jokull, which will then emerge from the massive hole in the middle of the stage. Throughout the fight, Jokull does not move from the spot; she instead relies on waves of minions that spawn constantly from both entrances until it is defeated.
Being treated as scenery instead of an enemy, Jokull cannot be attacked or damaged by towers. Instead, during the course of the level (before the fight against Jokull), the player's goblin minions will build two special cannons for the sole purpose of killing Jokull. Once a cannon is ready, tapping on it will cause it to fire at Jokull. Both cannons must fire three times each in order to defeat Jokull (the left cannon will explode instead of firing on the final time, however).
Jokull supports her minions by breathing ice at towers to freeze them, similar to the Svell Druid's ability but affecting many more towers. Initially, this attack will freeze 3 towers, which will increase to 6 as Jokull's pseudo-HP gets low. She can also fire her horn spikes into the air which will land on your troops or hero for extremely high damage; the damage appears to increase as her health gets lower.
Are you ready to chill your bones? (Technically spoken by Arkuz, as Jokull seems incapable of speech).
Jökull is the Icelandic word for Glacier. Which seems to be what Jokull was supposed to resemble before Arkuz broke the ice.
Arkuz bears a striking resemblance to Stoic the vast from How to Train Your Dragon.

Both ride on dragons and their village buildings are similar

Jökull is the name of a Frost Giant in Norse Mythology.
The achievement earned for defeating Jokull, is a reference, to the popular movie/book franchise, How To Train Your Dragon
The achievement for defeating Jokull refers to her as the "Mother of Wyverns". A Wyvern is a type of dragon that has 2 legs and 2 wings, instead of 4 legs and 2 wings. However, in the comic strip following Jokull's defeat, it shows her with 4 legs and no wings. It is unknown why she is called the mother of Wyverns if she does not have the characteristics of a Wyvern Dragon.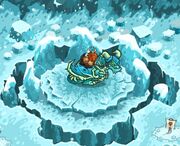 HOW TO TAME YOUR DRAGON (30 gems) Defeat Jokull, mother of Wyverns.
Community content is available under
CC-BY-SA
unless otherwise noted.