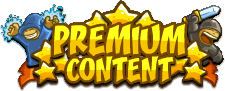 The Premium Content is an additional pack of content that can be purchased for $5.95 on Armor Games or 60 Kreds (equivalent $6) on Kongregate. It is not available on the iOS and Android versions, which have the Shop instead.
Additional content
[
]
7 extra stages: Sarelgaz's Lair, Ruins of Acaroth, Rotten Forest, Hushwood, Bandit's Lair, Glacial Heights and Ha'Kraj Plateau
6 new heroes: Magnus Spellbane, Ignus, Bolin Farslayer, King Denas, Elora Wintersong and Ingvar Bearclaw
Extra spell: Lightning Bolt
15 free stars
Extra gold (+30%) at the start of each level
1 extra reinforcement
Star Wars, Mortal Kombat and Street Fighter costumes for reinforcements
Description 
[
]

EXTRA GOLD
Start each stage with some extra gold. Courtesy of your fellow crazy gnomes.
LIGHTNING POWER
Blast your foes with lightning from the skies!! And feel like Zeus himself!

EXTRA REINFORCEMENT
All for one, one for all!!

REINFORCEMENTS COSTUMES
Tired of farmers and conscripts? Give your reinforcements a new look with these costumes!
Star Wars themed pack: Chewbacca, Darth Vader, Luke Skywalker and Yoda.
Mortal Kombat themed pack: Goro, Liu Kang, Scorpion and Sub-Zero.
Street Fighter themed pack: Blanka, Ken, Guile and Ryu.