| | | |
| --- | --- | --- |
| " | I'll have my vengeance. | " |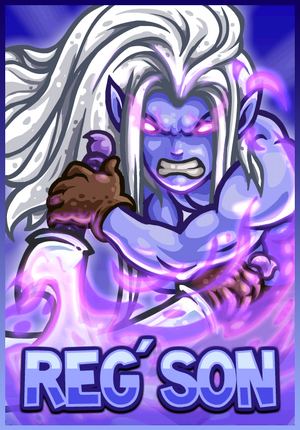 Reg'son the Eldritch Blade is a Hero in Kingdom Rush: Origins, unlocked by paying $1.99 as an in-app purchase on Mobile. He is unlocked at Grimmsburg on Steam. He starts at level 5.
Description
Edit
Few dare combine martial prowess with eerie sorcery, none has ever mastered it like this silent young elf. The true heir to the Dark Throne of the Twilight Elves, left for dead when Malicia murdered his family. Since then he has sacrificed everything to become the deadliest warrior, the very embodiment of vengeance.
Reg'son, as suggested by his quotes, seems like a twilight elven swordsman who was somehow abandoned by his clan, and has chosen to fight alongside the Elven Army. Using his great strength and mystic skills with the blade, he is among the greatest warriors ever to exist.
Reg'son is surely one of the best melee heroes around. Despite his low base damage, when fully upgraded, he can unleash devastating attacks from his Eldritch Blades, while remaining unscathed thanks to Eldritch Heal. His lack of armor limits his capability in directly confronting foes, but he can still stand for quite some time with a larger than normal health bar.
Reg'son's biggest weakness is his lack of a reliable crowd control tool. His Hero Spell, Vindicator, only affects one unit, and his AOE attack, Eldritch Slash, only affects three. Hence he is very weak when dealing with middling hordes.

 ELDRITCH HEAL

(passive) (1/2/3 hero points):
Whenever an enemy is defeated nearby, Reg'son is healed by 5% / 15% / 30% of the enemy's total life.

 ELDRITCH BLADE

(active, cooldown: 30 seconds) (3/3/3 hero points):
Burns with eldritch fire for 5 seconds, slashing 10 times and dealing 30/50/70 True Damage on every attack with a 1%/2%/3% chance of slaying.

The description on iOS version is incorrect. Actual damage is listed above.

 ELDRITCH SLASH

(active, cooldown: 15 seconds) (2/3/4 hero points):
Special manoeuvre that makes 3 attacks for 20-60 / 45-130 / 75-225 physical damage on up to 3 enemies.
The description on iOS version is incorrect. Actual damage is listed above.

 ELDRITCH WAY (passive) (1/1/1 hero points):
Increases Reg'son's health by 40/40/40 points.

 VINDICATOR (active, cooldown: 120/100/70/50 seconds) (3/3/3 hero points):
Vindicator slays any single target. Deals 500/1000/1500/2000 damage to bosses.
When all of Reg'son's skills are active, he will use them in this order:
Eldritch Blade
Eldritch Slash
Reg'son's melee attack deals True Damage even when Eldritch Blade is not active.
Numbers in parenthesis indicate health with Eldritch Way upgraded.
| Level | HP* | Heal Rate | Damage (0.6s) | Armor | Respawn |
| --- | --- | --- | --- | --- | --- |
| 1 | 300 | 30 | 6-9 | None | 15s |
| 2 | 320 (360/400/440) | 32 | 6-10 | None | 15s |
| 3 | 340 (380/420/460) | 34 | 7-11 | None | 15s |
| 4 | 360 (400/440/480) | 36 | 8-12 | None | 15s |
| 5 | 380 (420/460/500) | 38 | 9-13 | None | 15s |
| 6 | 400 (440/480/520) | 40 | 9-14 | None | 15s |
| 7 | 420 (420/380/340) | 42 | 10-15 | None | 15s |
| 8 | 440 (480/520/560) | 44 | 11-16 | None | 15s |
| 9 | 460 (500/540/580) | 46 | 12-17 | None | 15s |
| 10 | 480 (520/560/600) | 48 | 12-18 | None | 15s |
Tips and Tricks
Edit
Reg'son is a fast and strong melee hero, focusing on demolishing small numbers of enemies. Unlike other melee heroes, Reg'son has a modest damage output and average durability due to lack of armor, however, with his very fast attacks dealing true damage and his skills, he can kill faster than many other heroes do. When using Reg'son, pairing him with good support towers, preferably those able to handle groups, such as Wild Magus, Arcane Archers and Forest Keepers is a good idea, since not only Reg'son's individual DPS without skills is low, but the lack of an AOE Hero Spell can be fatal without sufficient investment on Crowd Control.
When paired with a strong choke point, Reg'son will make it even better by killing off most of the tough enemies and heavily wounding some lesser ones. However, he is not very good at strengthening a weak defense, since he lacks good crowd control.
Below is a summary of Reg'son's strengths and weaknesses:
Strengths
Edit
High True Damage: Reg'son deals a lot of damage, mostly thanks to Eldritch Blade. Armor matters little to him, which is one of the reasons why Reg'son hurts and kills much more effectively than Bravebark and Prince Denas.
Support a choke point: When enemies are grouped and controlled by towers and soldiers, Reg'son can unleash his wrath with Eldritch Slash and Eldritch Blade better and is healed more due to the larger number of enemies killed. This makes him perfect to support choke points.
Fight like a lone wolf: Although he fights better by a choke point, Reg'son also has a lot of potential in solo fights, with all of his skills built around supporting himself. He can hold his own against Gnolls, Satyr Cutthroats, Satyr Hoplites and Sword Spiders.
Weaknesses
Edit
Lack of crowd control: This is Reg'son's biggest, most noticeable flaw. His lack of a good AOE skill can easily let through hordes of enemies as he struggles to deal with all of them. And, since Vindicator only affects one target, it cannot be used as a mass destruction/crowd control weapon like the Hero Spells of some other heroes, like Eridan and Arivan.
Lack of armor: Reg'son has a lot of health, but he is unarmored, thus his health can fluctuate greatly, unlike health like that of Prince Denas and Bravebark. He can be killed very quickly if you are not careful, especially to powerful attacks like those of Twilight Golems or arrow volleys from Twilight Harassers.
"I'll have my vengeance."
"Wait and bleed."
"I am still standing."
"I live to fight this day."
(death) "Into the night..."
'Reg'son' is an anagram of the lead designer, Gerson da Silva's first name.
Reg'son is based heavily on the Night Elf Demon Hunter from Warcraft 3. Both wear little clothing, and both are brooding and extremely revenge oriented.
"Wait and Bleed"

A 1999 song by the heavy metal band Slipknot.
Vindicator has a bug when used on the Gnoll Warleader to kill it. If slain as it just spawns in (a good indicator is whether or not all of the sprite can be seen yet), the Warleader will be locked into its walking animation, no longer a threat. It can still be targeted by ranged attacks but not melee attacks. If Vindicator is used again on the Warleader, it will give gold again and again without dying. However, if enough damage is done to it through towers shooting at the Warleader or Thunderbolt blasts striking it to deal damage equal to its max health, the Warleader will die as intended. The damage threshold resets each time Vindicator is used again.

This makes Reg'son especially useful in Endless Mode, as he can contribute far more Gold than any other hero if this glitch is abused.
This bug is exclusive to iOS and does not work on the android and steam versions of the game
Community content is available under
CC-BY-SA
unless otherwise noted.