Now, their forward troops are creeping towards the defenseless rural communities north of Southport.
We must establish an efficient and swift defense."
The Farmlands, known as The Outskirts on the iOS, Android and Steam versions, is the second level in the game comprised of seven waves. The player starts with seven Strategic Points to build on. Level 2 Towers are unlocked on this level.
Strategy
When targeting Wulves, aim Rain of Fire well ahead in their path. Also consider the time the meteors take to travel from the top of the screen to the targeted point.
A Dwarven Artillery can take out large groups of Goblins in one shot and heavily damage Wulves and Orcs.
Build fast attacking towers at the end of the path to take out Wulves that make through.
Strategy
Same strategy from the campaign applies.
Same strategy from the campaign applies.
If calling waves early, make sure to build fast attacking towers early at the end of the path. Your soldiers and artillery may not hold so many Wulves among other waves.
Strategy
You may want to move your Artillery upgrades to the Archer tier.
Consider selling Archer and Artillery towers to adapt to the Orcs light armor. Salvage may be very useful.
Even without Barracks, a Dwarven Bombard can be helpful against Goblins if assisted by Reinforcements.
Initially, prefer covering more ground over upgrading to keep damaging the weak, fast moving Wulves.
New Tower Upgrades!

Tower level 2 available
You can now upgrade your Towers up to level 2.
Strategy Basics!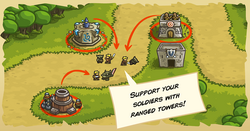 Barracks are good for blocking the enemy, but lack attack power.
Make sure you have enough firepower to support them!
New Enemy
Wave 4
Wulves

Very fast vicious creatures that can dodge melee attacks.

Can dodge melee attacks
Low health
Very fast speed
Community content is available under
CC-BY-SA
unless otherwise noted.