"That Gnoll forward patrol was barely a practice fight. Our scouts have spotted a much larger band trying to cross the Old Bridge.
We shall send them running back to their warrens, their numbers be damned!"
The High Cross is the second level in Kingdom Rush: Origins. Level two towers are made available.
New Tower Upgrades!

Tower level 2 available
You can now upgrade your Towers up to level 2.
Command Your Troops!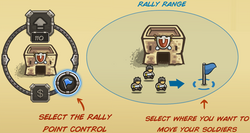 You can adjust your soldiers' rally point to make them defend a different area
Strategy Basics!

Barracks are good for blocking the enemy, but lack attack power.
Make sure you have enough firepower to support them!
New Enemy
Wave 4
Gnoll Gnawer
Huge armored and scarred gnoll warriors that lead their kin into battle.




Medium Armor
Battlefury when in a pack
High health
Armored Enemies


Some enemies wear different levels of armor that protects them against non-magical attacks. Armored enemies take less damage from marksmen, soldiers and artillery.
Community content is available under
CC-BY-SA
unless otherwise noted.